Denby Monsoon Lucille Teal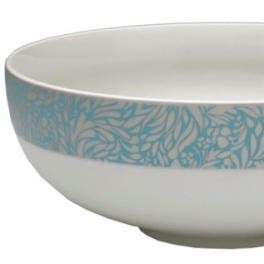 Drawing inspiration from 1950's lace, this is a decorative and charming collection of silver and teal on fine, soft cream china.
Email us at enquiries@tablewareforlife.co.uk to go on our list for discontinued items currently out of stock. There is no obligation or additional charge for this service.
Description
In Stock
Condition
Price (each)
Buy
Denby Monsoon Lucille Teal Salad Plate

21.5cm/8.5"

0
Denby Monsoon Lucille Teal Dinner Plate

28.5cm/11.25"

0
Denby Monsoon Lucille Teal Soup/Cereal Bowl

16cm/6.25"

0
Denby Monsoon Lucille Teal Pasta Bowl

24.5cm/9.5"

0
Denby Monsoon Lucille Teal Large Mug

0.3 ltr/10.5 fl oz

0
Denby Monsoon Lucille Teal Can Mug

0.25 ltr/9 fl oz

0
Denby Monsoon Lucille Teal Tea Cup

0.25 ltr/9 fl oz, Cup only

0
Denby Monsoon Lucille Teal Tea Saucer

17cm/6.75"

6
New
£5.00
Denby Monsoon Lucille Teal Small Jug

0.3 ltr/10.5 fl oz

0
Denby Monsoon Lucille Teal Teapot

1.25 ltr/2.25 pint

0
Denby Monsoon Lucille Teal Covered Sugar

300g/11oz

0
Denby Monsoon Lucille Teal Serving Bowl

2 ltr.10.5 fl oz

0
Denby Monsoon Lucille Teal Round Platter

35.5cm/14"

1
New
£35.00